Educating a girl is educating a nation
| | | |
| --- | --- | --- |
| | | |
Why companies do build multi-lingual website ?
4G - LTE - LTE Pro : Publication of a dictionary
TETRA : Placing the last piece of the puzzle for a complete European cross-border communications solution
TETRA : EADS - CAAC airports to showcase China
ESPERANTO : Do you speak Esperanto ?
ESPERANTO : Is Esperanto four times easier to learn?
UMTS/3G : HSPA and LTE to be ready for 700 MHz Spectrum Band
TETRA : Record-breaking TETRA on the trains TGV
TETRA : TETRA WORLD CONGRESS 2007
TETRA : HYT - First Technical Forum outside Europe
TETRA : APD for Abu Dhabi Police
TETRA : Simoco - China – Beijing office opening
TETRA : Beijing network doubles in size
TETRA : Colombia – Largest TETRA system for urban trunk bus
TETRA : France – Aix-en-Provence chooses Sepura
TETRA : Germany – TETRA takes off at Munich airport
TETRA : Lithuania's Ministry of Interior Selects Motorola
TETRA : Malaysia – first TETRA system
TETRA : Mexico – Alcatel appoints Teltronic
TETRA : Peru – Rapid delivery for Lima
TETRA : Sepura success in South Korea
TETRA : Spain – Teltronic for transport
TETRA : Sweden – Connex connects with TETRA
TETRA : UK – Police sign up to Arqiva's mobile data trial
TETRA : Northgate appoints new Divisional Director for Criminal
TETRA : Germany and Estonia confirm EADS for national networks
TETRA : Shanghai (China) streamlines communications
TETRA : Rhône and Lyon (France) choose regional TETRA
TETRA : Riga public transport on the move
TETRA : Essex Ambulance and Sepura first to respond
TETRA : Unified Energy System of Russia first phase complete
TETRA : Telvent scores with Seville's Secora
TETRA : TETRA system for Istanbul city trams
TETRA : First Private TETRA Network in Belgium
TETRA : Kowloon enhances KCR Light-Rail
TETRA : Tailored for TETRA by Teltronic
TETRA : Beijing Metro replaces 30 year old system
TETRA : Second phase Russian railway project
A meshed municipal HIPERLAN 2 vs WiMAX
A meshed municipal Wi-Fi vs WiMAX
ZigBee : a new wireless standard
EADS and Siemens submitted a tender to the GFMI
EADS : TETRA Terminals (Belgium, Ireland, Holland)
MOTOROLA : TETRA System (Korea)
TELTRONIC : TETRA Networks (Venezuela)
TELTRONIC : TETRA Infrastructure (Russia)
TELTRONIC : TETRA equipment (Brazil)
SELEX Communications : TETRA Networks (Spain)
SEPURA : TETRA radios (Serbia)
SEPURA : TETRA radios (Brazil)

EADS : Delivery of TETRA handportable

Why companies do build multi-lingual Website?
The Internet continues to grow and develop, has become the preferred way to businesses and individuals seeking business opportunities, goods, services and information to understand. From the perspective of standing to enhance the competitive advantage of an enterprise to build a multi-language site is the increasing number of customers premise and efficient means to increase sales.
With the accelerating of the process of internationalization, multilingual website will become an indispensable part of businesses and organizations.

Multi-language website to help businesses face many non-English speaking Internet users
Change over time, the proportion of non-English speaking Internet users is constantly rising. Compared to the previous situation by English-speaking users to control the Internet has produced a fundamental change.
Foreign Internet market is the mature fruit, as long as you are willing to pay less effort will be able to get a huge harvest. The results show that the Internet tends to slow the growth in the United States, Britain and Sweden, in other countries such as Brazil, China, France, Italy, Japan and South Korea grew significantly.
The most readily available opportunities in the country's Internet usage and the user (or site) before the relationship has been established culture in the current growth stage, customers will become the loyal customer base. Multi-language Website an effective marketing tool in the enterprise has the ability of the majority of Internet users to communicate in their own language, which not only means an increase in sales even more valuable is to establish your brand, services and products in the local market known.
The construction of multi-language website is a great program because it is likely that corporate marketing, seize new users, the most effective way to establish new customer relationships and the empowerment of an international image of the corporate brand.

Multi-language Website can bring new customers
By your multilingual website exposure in front of potential customers in various countries, regions, naturally you will get the attention of these native language users.

Multi-language Website to increase sales to the enterprise
On the site to add a language has the potential doubling sales. Even if only to completion of the site contains only Chinese, Esperanto, French, German, Italian and Spanish website of the five major world languages and one international auxiliary language, its sales may also be potentially up to five or to ten times. This is a rare use of such a small investment for such a large effect.

Multi-language website is able to convey the sense of customer-centric service
Your multi-language Website shows your thinking for the customer. Customer-centric thinking and caring efforts of customers will receive the gratitude of the customer, because of this extra work, they will be more inclined to patronize your business.

Multi-language website to get more trust
Many of the transactions executed through the Internet are often not familiar with each other in each other's language and the issue of trust between different cultures. Available to customers the choice of language to help them feel safe, exactly clear how to trade, with whom transactions.

Multi-language Web site to help overcome the cultural sensitivity
A properly designed multi-language Website, through the use of the native language of the target market to be able to overcome potential cultural barriers. Multi-language Websites automatically for the customer to create a "cultural comfort zone, so that they can freely navigate and understanding of website information, and interact with you.

Multi-language Website to fight efficiently against competitors
Thinking out of the frame to gain a competitive advantage in today's environment. Many companies are trying to distinguish themselves from competitors. Look at your competitors, if they are multilingual site Why do you not? If they do not, why not them before leading this market is to first establish your company's brand?

Multi-language website for the international style
A multilingual website for your ideas, business and international business processes. International corporate image and industry leadership thus establish a multi-language Website to help search engines for different regional countries, the search engine will bring people to your site. However, in some countries and regions have their own popular search engines, these search engines based on the use of mother tongue habits to adapt to the needs of the people, so successful. The engine of this type of search engine is the key to open the local market, In addition, unless they are able to use a particular language (English) would be difficult to find your.
In addition, many of keyword search engines, especially Google, excellent ability in multi-language development. With multi-language page of the site can maximize the protection of your site to many search engines to retrieve and display. The transaction is always constantly shift and change. Multi-language Website is still at an early stage, many multinational companies to use multi-language Website to strengthen its international position. However, the following effects will occur naturally multi-lingual website will become the main part of the Internet. Whether an organization is to choose now or in the future, this is the only choice of the site construction.


4G - LTE - LTE Pro : Publication of a dictionary
Radio Data Com ( RDC ) publishes a dictionary of LTE (Long Term Evolution) and 4G networks as well as LTE Pro systems (Professional, Public Safety, Public Security).

TETRA : Placing the last piece of the puzzle for a complete European cross-border communications solution
TWC 2005, Frankfurt: The goal of the Schengen Telecom group of a harmonised solution for Public Safety communications in Europe is close to being fully achieved.
Their vision is for a freedom of communication for all Public Safety Services (PSS) - police in cross border pursuit or other emergency organisations such as Fire and Rescue, Ambulance and Medical services attending a natural disaster.
Hans Borgonjen, TETRA Association Board member and one of the founder members of the combined group of European Public Safety communications officers who have been helping to turn the Schengen vision into a reality, commented that, "Germany is very close to a momentous Public Safety communications decision. Their choice of a new communications technology will be a significant step to completing the harmonisation we are all hoping for."
TETRA has been deployed for PSS use in almost all European countries in the 380-400 MHz frequency band. Germany, the largest and most highly populated country in Europe is one of the last to make its PSS communications decision for a national network. It has already stated in the invitation to tender documentation that the network's technology should be based on the TETRA standard or a comparable technology.
Germany's central role for PSS communications in Europe

Germany's geographical position at the centre of Europe, along with its size and number of inhabitants, self-evidently makes it highly important as far as cross-border PSS communications is concerned. The milestones set this year for building a national public safety network are strongly welcomed.
Mr Borgonjen demonstrated the strong support of the political parties of the CDU and SPD coalition to this new national communications network with reference to a quote directly from the coalition agreement showing the commitment to push forward the plans for building Germany's new public safety network.
"In order to improve PSS communications capabilities we will push the introduction of a digital network ("Einführung des Digitalfunks") in coordination with the federal states and within the framework of the selected operator model. It must be our goal to provide nationwide coverage, a universal standard and a fair cost-splitting between Federal Government and the federal states".
The goals of the original Schengen Telecom group have not changed. Their vision of integrated, multi-user shared networks that cross borders and give emergency service users the lifeline they need when dealing with major incidents has been implemented in many countries in Europe.
Hans concluded that the picture puzzle has most of its pieces already set out across Europe forming a strong and coherent map of TETRA users. He added, "Just one or two gaps remain. The pieces have been identified and the best way to achieve the solution is clear - TETRA. It just remains to put them into place."
TETRA MoU Association

TETRA : EADS - CAAC airports to showcase China
EADS has signed a framework cooperation agreement to establish a nationwide TETRA network for China's airports.

The network, to be built for the Air Traffic Management Bureau (ATMB), Civil Aviation Administration of China (CAAC), will be the largest digital trunked radio network in China.
During the first phase of the project, a TETRA exchange centre will be set up in the international airports of Beijing Capital, Shanghai Pudong, Shanghai Hongqiao and Guangzhou Baiyun. The base stations in these four airports and the remote base station that has already been set up for the Chengdu airport will be connected to the switching centres, and will form the core of a large nationwide network in a unique hub system.
Together, the five airports serve over 100 million passengers annually. According to market estimates, the number of Chinese air passengers will increase by 100% over the next ten years.

ESPERANTO : Do you speak Esperanto ?
Esperanto-USA (E-USA) is a non-profit organization of Esperanto speakers and supporters of Esperanto in the United States. The League seeks to increase understanding of Esperanto and the world language problem. They invite you to join their community!
Esperanto-USA operates an on-line bookstore, a Newsletter, and an annual congress for Esperanto speakers. Members receive significant benefits, including the newsletter and discounts at the bookstore and the annual congress
WebSite : http://www.esperanto-usa.org
Esperanto is a language introduced in 1887 by Dr. L.L. Zamenhof after years of development. He proposed Esperanto as a second language that would allow people who speak different native languages to communicate, yet at the same time retain their own languages and cultural identities. Esperanto doesn't replace anyone's language but simply serves as a common second language. Esperanto can be learned in much less time than any other language. (Some say that it is four to ten times easier). Esperanto is politically unbiased.
Although there aren't a lot of people who speak Esperanto in any one place, there are some almost everywhere. There are over a hundred periodicals regularly published in Esperanto. There are thousands of books in Esperanto, both translated and original works. There are millions of webpages.
People who speak Esperanto are internationally minded, concerned about social justice and peace, and are helping to preserve linguistic diversity. Meetings and conventions in America, Europe, Africa, Australia and Asia provide a fun opportunity to travel and meet new people from around the world.
Esperanto doesn't replace anyone's language but simply serves as a common second language.
Esperanto is politically unbiased, helping to preserve minority languages and cultures.
Esperanto provides an opportunity to travel and meet new friends from around the world.
Esperanto is fun to learn and fun to speak!
See also three Esperanto radio stations :

ESPERANTO : Is Esperanto four times easier to learn?
If you're an average American or English who does not speak any foreign language fluently, you can learn Esperanto much more easily than you could learn any other foreign language. Of course, if you already speak, say, Italian or French, learning Spanish would be pretty easy. But for most of us, learning any foreign language ― except Esperanto ― would be a long and painful job.
Here's why you'll likely find Esperanto at least four times easier:
Esperanto is phonetic
In Esperanto, every letter has just one sound; every sound has just one letter representing it. The emphasis is always on the next-to-last syllable. So once you learn the alphabet, you can pronounce anything you read, and you can spell anything you hear. And you can learn the whole system in a few minutes. Compare that with the hour or so a week you spent for half a dozen years in grade school, learning to spell English (without a guarantee that you will get every new word you meet right). And that was your own language!
Esperanto has a simplified grammar
Compared to most languages, Esperanto's grammar is extremely simplified ― stripped down to the bare necessities. For example, verbs have only six endings, and these do not change regardless of person or number ― that is, the ending doesn't change depending on whether "I", "you", "they", or "we" do the action. And the endings never change. Every verb uses only those six endings! Compare this to French, for instance.
Esperanto simplifies building your vocabulary
Esperanto gives you prefixes and suffixes that you can use to multiply your vocabulary and cut down on the number of words you have to learn.
For example, the prefix mal- means "opposite of." So if you know the word for "good" (bona), you know how to make the word "bad" (malbona). Tall (alta) and short (malalta), big (granda) and small (malgranda), possible (ebla) and impossible (malebla), happy (feliĉa) and unhappy (malfeliĉa).
Another example: the suffix -eg- means "very big, very much so." So a big house might be a granda domo, but a mansion would be domego. And now from "rain" (pluvo) you can make "downpour" (pluvego), from "good" (bona) you can make "excellent" (bonega), from "happy" (feliĉa) you can make "overjoyed" (feliĉega). And Esperanto doesn't shortchange smallness, either; in that direction the suffix -et- plays the same role as -eg- for bigness, but we will let you come up with some "small" words of your own as examples

Esperanto lets you invent your own vocabulary
You can combine words, prefixes, and suffixes as you speak to make new words. In English, you can't just stick "un-" in front of the word "recommend" (unrecommend? disrecommend?). In Esperanto, if the opposite of a word ― a noun, a verb, an adjective ― makes sense, go ahead! Malrekomendi is perfectly good Esperanto. You want to really, really malrecommend something? Malrekomendegi! Every Esperanto speaker will get your point.
Esperanto has a recognizable vocabulary
You may have recognized several of the Esperanto words above, or seen related words in English (bona -> bonus, alta -> altitude, feliĉa -> felicitous). About 78% of Esperanto vocabulary is directly or indirectly derived from Latin roots, many of which also appear in English. Another major chunk is from Germanic roots (hundo, hound or dog). So you'll understand a good part of the words with little trouble.
Anecdotal evidence
First, a friend's story. She studied Spanish, then Esperanto. She claimed she learned as much Esperanto in six weeks as Spanish in six months.
Now my own story. I studied Latin for four years in high school; I was pretty good but never reached the point where I could actually speak it. With Esperanto, I've been able to learn it so well that I don't even have to translate when I speak or listen. When I speak it, the words just come out (and usually correctly!); when I listen to or read Esperanto, it's obvious what the words and the grammar mean without having to analyze each word. I was surprised when I realized I had reached that level of fluency, but that's what you can do.
See Esperanto-USA.
So. Four times easier? Many people think so. Many people even say it's more than four times easier! Try it and see for yourself.

UMTS/3G : HSPA and LTE to be ready for 700 MHz Spectrum Band
Spectrum is the lifeblood of wireless communications worldwide.
The resource that makes connectivity possible.

Careful planning and global coordination of this most valuable asset, such as the work done by the ITU for the 700 MHz spectrum band, will ensure the future delivery of advanced wireless communications services throughout the world.
This work is particularly relevant for the Americas.
The GSM technology family is rapidly growing in the Americas, taking 62% share of market as of the end of September 2007, and is the only technology present in all 46 countries of the region.
The third generation of GSM, which includes UMTS/HSPA, is currently commercially deployed on 13 networks in 8 countries of the Americas.
Many more launches of UMTS/HSPA are anticipated throughout the Americas in 2008.
The 700 MHz spectrum band has great propagation characteristics and therefore significant value for the wireless industry.
The decision by the ITU identifies 689-862 MHz for IMT in Region 2, which includes all of the Americas, and in nine countries of Region 3 (Bangladesh, China, Korea, India, Japan, New Zealand, Papua New Guinea, Philippines and Singapore). In Region 1 (which includes Europe, Africa, the Middle East west of the Persian Gulf and including Iraq, the former Soviet Union and Mongolia), the lower 700 MHz band was excluded from IMT operations, starting instead at 790-862 MHz.
"We applaud the ITU for their work in coordinating spectrum and designating 700 MHz as a core band for mobile services," stated Vicki Livingston, Director of Marketing for 3G Americas.
Harmonization will facilitate international roaming while minimizing equipment costs and promoting economies of scale, so that successful deployments of HSPA/LTE will ensure delivery of advanced wireless services around the world.

TETRA : Record-breaking TETRA on the trains TGV
574.8 km/h… that was ETELM's achievement in France with a TETRA trackside-to-train speech and data transmission during the world speed record for a train. Base stations were located trackside, directly adjacent to the passing train.
The event was a triumph of co-operation between SNCF (the French Railways), RFF (French Rails) and train manufacturer ALSTOM, with the expertise and support of IGTL (the Railway's radio communication division) managed by M. Massy who was on the train during the tests and the world record.
Transmissions were made with standard TETRA terminals from EADS...
Pierre Minot, CEO of ETELM said : 'Not only a technical first, this record inspired a passion and sense of adventure in all involved and sets a new standard at the leading edge of TETRA development.'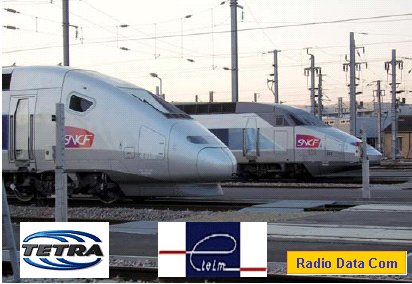 The largest TETRA exhibition in the world !!!
The TETRA World Congress 2007 will be held at :
- the IFEMA North Convention Centre, Madrid
- The Exhibition and Conference
from 12th to 14th June 2007.
Exhibitors :
| | | | |
| --- | --- | --- | --- |
| 4RF | ETSI | Oy Stop Noise Finland | Syntech Systems Ltd |
| 4sens | FEDETEC | Panorama Antennas | TEAM SIMOCO |
| Abertis Telecoms | Hirschmann | PCTEL | Tecmic |
| Aerial Facilities Ltd | Hyder | Peter Jones | Tecnomen |
| Aeroflex | IIR SPAIN | Phonak Communications | Tecosa |
| Anite Finland Ltd | Imtradex | Portalify | TEL-CAB |
| Antenna Plus | Infomatrix | Poyry Telecom | Telex Communications |
| Antennentechnik | Kabelwerk Eupen | R&S BICK Mobilfunk GmbH | Telsa Srl |
| APD | KATHREIN-Werke KG | Radio IP Software | Teltronic |
| Artevea | KNOSOS | RadioResource International | Telvent |
| Avitec | Lowe Electronics Ltd | Rohill Technologies B.V | TETRAsim |
| Bee Electronics | M/A-COM | Roscom | Thales Communications |
| CellVision | Macleod International | Samdale Associates | Verint Systems UK Ltd |
| Cleartone Telecom | Mantissa Operations | Savox | Westica |
| Comptel | Mason | Sepura | Willtek |
| Creowave | Mentura Group | Shenzhen HYT | Zenitel |
| Crypto | Microbus | Shout Telecoms | Zetron |
| CyberTech | Motorola | Siemens AG Oesterreich | |
| Damm Cellular Systems A/S | Multiple Access Com Ltd | Sinclair Technologies | |
| Dantherm | NICE CTI Systems | Skymasts Antennas Ltd | |
| Dekolink | O2 Airwave | Sonic Communications | |
| EADS Secure Networks | OTE SpA | SunGard Vivista | |
| ETELM | OTTO | Swissphone Telecom AG | |
Case Studies Include :
| | | | |
| --- | --- | --- | --- |
| Airwave | French Army | Qtel | |
| ASTRID | Helsinki & Uusimaa Hospitals | Saudi Aramco | |
| Barcelona City Council | Hong Kong Police | Schiphol Airport | |
| Beijing Olympic Games | Iraq Roll-Out | Secora, Seville | |
| Belgian Police | Isle of Man Government | seNet, Germany | |
| Bordeaux Municipality | Istanbul Light Rail | Shanghai Government | |
| British Transport Police | Madrid Municipality | South African Police Service | |
| CLP Power Hong Kong | Malaysia GIRN | STA Andorra | |
| Danish Taxis | MRS Logistica | State Security Networks | |
| Dutch Caribbean | NATO | UK Ambulance Service | |
| Fire department of Duisburg | Panama Canal | United Arab Emirates | |

TETRA : HYT - First Technical Forum outside Europe
The TETRA Association Technical Forum meeting #40 was hosted by HYT in Shenzhen, China at the end of January. HYT is one of many manufacturers from Asia entering the TETRA market.
Asia is one of the fastest growing TETRA markets in the world.
It was the first Technical Forum meeting outside Europe, and attracted twice the usual number of participants. It highlighted the importance of the contribution of Asian TETRA experts in the Technical Forum.
TetraMou
TETRA : APD for Abu Dhabi Police
APD has won a contract to deliver its CORTEX control room, vehicle tracking, personal location, and mobile data solutions to Abu Dhabi Police, helping the force to provide a secure environment to their people. Nokia is prime contractor; main subcontractors are EADS Secure Networks for digital radio communications and infrastructure, APD for control rooms and mobile data solutions and Atlas Telecom, the in-country Systems Integrator.

TETRA : Simoco - China – Beijing office opening
Team Simoco has opened its flagship new offices in Beijing. The company has secured and delivered a number of advanced radio communications projects within the Chinese market, including a major radio system deployment for a 1000km stretch of the Kazakhstan-China oil and gas pipeline.
TETRA : Beijing network doubles in size
EADS and Beijing JustTop Communication Co Ltd. have signed a contract to expand the Beijing Government Shared TETRA Network, the largest digital trunking network in the Asia Pacific region.
The extension will double the current network size both in terms of capacity and number of users.

TETRA : Colombia – Largest TETRA system for urban trunk bus
Teltronic has signed an agreement with TRANSMILENIO, the urban transport public operator in Bogota, to deliver a radio communications network in the metropolitan area that will transport eight million people.
Teltronic has become the selected subcontractor to supply the TETRA system for EMCALI, the public company that provides water management, energy and telecommunication services to the city of Cali.
TETRA : France – Aix-en-Provence chooses Sepura
The city of Aix-en-Provence has chosen Sepura TETRA radios for its municipal organisations. The radios will be used within the framework of a digital geo-localisation service implemented by Sepura's French partner SYS&COM.

TETRA : Germany – TETRA takes off at Munich airport
Motorola has won a contract to supply a TETRA digital radio system to Munich Airport, the second largest airport in Germany.
The deployment is scheduled for completion by the end of June 2007.
TETRA : Lithuania's Ministry of Interior Selects Motorola
Motorola and a local distributor JSC INTA will deliver a nationwide TETRA network for Lithuania, serving the border guard, customs, emergency services (police, fire and ambulance) and the state secret service.
An IP-based TETRA solution, the network will support data transmission, enabling public safety organizations to send data – such as fingerprints, passport information, license plates and pictures – to and from handheld TETRA devices and central computer systems. Completion is due by Q4 2007.
The contract also includes 6,200 TETRA radio devices with GPS to pinpoint the users' location.

TETRA : Malaysia – first TETRA system
Together with SI companies JEBSEN & JESSEN and COMINTEL, Teltronic has supplied the first TETRA system in Malaysia to Port Tanjung Pelepas (PTP).
TETRA : Mexico – Alcatel appoints Teltronic
Teltronic will supply TETRA infrastructure and on-board subsystems to Alcatel for the new Buenavista- Cuautitlan suburban train in Mexico D.F, expected to transport over 100 million people a year.

TETRA : Peru – Rapid delivery for Lima
Lima has chosen Sepura TETRA radio terminals for use in the municipality of Surco, its cultural and historic centre. The radios will operate on digital infrastructure supplied by Thales that will later be extended to a larger system that will include Lima's other nineteen municipalities.
The Lima based systems integrator Mastercom will carry out the implementation of the project for Surco.
TETRA : Sepura success in South Korea
The Korean National Emergency Management Agency (NEMA) has approved Sepura TETRA radio terminals for use on Korea's nationwide public safety network, which is currently entering its first phase of deployment.
This approval enables government agencies to acquire Sepura TETRA radios directly from the Korea On-Line Electric Procurement System (KONEPS) that services all South Korea's public and governmental organisations.

TETRA : Spain – Teltronic for transport
Teltronic has been chosen to supply the infrastructure for TETRA digital radio communications in Barcelona Underground, Line 9, the largest underground line in Europe.
The Administration of Cataluna selected both Abertis Telecom and Teltronic TETRA technology for the phase of wireless and mobile communications between the trains and the central control station.
Also on the railways, Teltronic has been chosen for the Government of Valencia Railways (FGV) to supply a TETRA system for the Mercado-Altea stretch of the Alicante-Denia line, and both the TETRA system and the terminals for the Light Train of Parla, Madrid.
In cooperation with the Spanish S.I. leader SAMPOL TELECOM, Teltronic has provided a TETRA system for the new subway line of Mallorca.

TETRA : Sweden – Connex connects with TETRA
Connex, one of Sweden's major transport organisations, has chosen Sepura TETRA radios for use on its buses in the city of Umea. Swedish Radio Supply AB (SRS), Sepura's distributor in Scandinavia, together with its partner LTS, will jointly deliver the new communication system.
TETRA : Bespoke solution for nuclear plant
Zenitel is installing a digital TETRA solution for plant and critical communications at the OKG nuclear power plant on the south east Swedish coast. Implementation is due to be completed by mid 2007.

TETRA : UK – Police sign up to Arqiva's mobile data trial
The Avon & Somerset Constabulary is trialling Arqiva's Police Mobile Data Solution. The fully managed solution allows officers to perform essential data operations, such as checking suspect and vehicle details, address mapping functions, and will soon provide the ability to receive briefing documents via their in-car devices.
TETRA : Northgate appoints new Divisional Director for Criminal
Justice and Public Safety Northgate Information Solutions has appointed Ian Blackhurst as Divisional Director for Criminal Justice and Public Safety within the Public Services division.
TetraMou

TETRA : Germany and Estonia confirm EADS for national networks
EADS has secured the contract to construct BOSNet, the nationwide digital TETRA radio system
Soon after the German win, the Estonian government and EADS signed a contract to build the Estonian public safety network. Users of the network will include the police, border guards, rescue services, and other organisations responsible for public safety. The Estonian network is planned to be ready for service during the first half of next year.
TETRA : Shanghai (China) streamlines communications
Motorola is to establish a TETRA network for the city of Shanghai, enabling 50,000 government agency users to communicate on a single unified platform.
The new system is scheduled to be operational by December 2006, preparing Shanghai to provide communications services for the 2007 Special Olympics, the 2008 Beijing Olympics, and the 2010 World Expo.
TETRA stars in Danish games
TETRA technology ensured the smooth running of L a n d s s t a e v n e , Denmark's largest sporting event, held every four years. The TetraStar network, using Sepura radios, registered around 10,000 group calls during the games. The busiest hours registered approximately 200 group calls per hour. First aid was the major user with over 1,000 calls.

TETRA : Rhône and Lyon (France) choose regional TETRA
Sytral (Syndicat Mixte des Transports pour le Rhône et l'Agglomération Lyonnaise), the French regional public transit authority, has chosen a TETRA system. R&S BICK Mobilfunk received the order from its French system partner, Sabatier SA. The TETRA system will transmit GPS and maintenance data from all Sytral buses and streetcars to the control centre, enabling continuous monitoring of the transport system.


TETRA : Riga public transport on the move
As part of the plan to enhance the Automatic Vehicle Location (AVL) system for the city's buses, SIA Rigas satiksme, the municipal enterprise of the city of Riga has chosen Sepura TETRA radios for the Latvian capital's public transport, through distributor Selkoms. SIA Rigas satiksme employs 6,500 staff and manages 459 buses, 252 trams and 311 trolleybuses. It also controls 61 bus routes in Riga, 11 tram routes and 21 trolleybus routes and provides parking services.
TETRA : Essex Ambulance and Sepura first to respond
Sepura is to supply TETRA radios to the East of England Ambulance Service. This is the first order from O2 Airwave for ambulance digital radios under the Department of Health's (DH) national programme in England.
The order comprises a combination of radios and special features that were developed by Sepura specifically for ambulance services.


TETRA : Unified Energy System of Russia first phase complete
Russia's Unified Energy System (UES), the largest power holding in the Russian Federation, has completed the first phase of the implementation of an advanced digital communications system and has chosen Sepura radios through Russian distributor Infracom.

TETRA : Telvent scores with Seville's Secora
Telvent GIT S.A. has signed a contract with Agrupación de Interés Económico de Empresas Municipales de Sevilla, the organisation responsible for running Seville's municipal companies, to implement its new SECORA communications network. The network will replace and unify the seven existing municipal analogue networks, contributing to a reduction of the environmental impact by eliminating the existing 32 repeating stations to leave 10 base stations, allowing compliance with the new telecommunication regulations. Telvent is using Rohill's TetraNode technology, and SECORA has chosen Sepura TETRA radios through Telvent.

TETRA : TETRA system for Istanbul city trams
Istanbul Municipality Contractors have awarded Uskom Komunikasyon Sistemleri A.S. a contract to deploy a multi-site TETRA network for Istanbul City for the tram network. The TETRA infrastructure is based on Rohill's TetraNode solution.

TETRA : First Private TETRA Network in Belgium
Carinox, part of the Arcelor steel group, has become the owner of the first private TETRA network in Belgium. The Carinox factory in Chatelet had the network installed by Zenitel and Siemens in just six weeks, ready for the official inauguration of the factory.
Terminals are Motorola's MTH800 radios, integrated in a central PABX. Over 170 people use the TETRA network.

TETRA : Strategic alliance for China market
Hisense, one of the largest electronic technology companies in China, and Sepura, the world's second largest supplier of TETRA radio terminals, have announced an agreement to enable the local manufacture, development and supply of TETRA radios in China.
The radio products will be provided in all frequency bands allocated to TETRA in China. Sepura was the first company to provide TETRA products for the Public Security 350-372 MHz radio frequency band in China and Hisense will produce these products from its Chinese manufacturing facility, plus other TETRA radios in the 440-473 MHz and 806-870 MHz radio frequency bands.
This arose from the decision by the Ministry of Information Industry (MII) in 2000 to adopt the international TETRA standard for digital radio in China, particularly for use by police, fire, ambulance, transport, ports and metros. MII estimated a potential market in China for 8-9 million digital trunked radio terminals."
TETRA : Kowloon enhances KCR Light-Rail
The Kowloon Canton Railway (KCR) Corporation is enhancing communication across its Light-Rail network. The contract for the TETRA over IP (ToIP) infrastructure was won by Artevea conjunction with Shun Hing Systems Integration, Artevea's distributor in Hong Kong.

TETRA : Tailored for TETRA by Teltronic
TETRA railway applications are on the increase. The benefits of digital TETRA, offering secure and high-quality communications in noisy environments, have increasingly made it the platform of choice for railway companies. The tailor-made TETRA equipment by Teltronic for railways includes a console with hand-set for voice communication and MMI (Man-Machine-Interface) for controlling the main functions of the train system.

TETRA : The French connection
Keolis (a subsidiary of the French railway company SCNF) will use a new TETRA system installed for the public transit authority of the Rhone and Lyon region. The system will be used primarily for data transmission.

TETRA : Beijing Metro replaces 30 year old system
The China Beijing Metro is replacing its existing communication system for its Line 1 and 2 Operations with a TETRA system from Motorola. The new system is expected to be fully operational by the second half of 2007. These were the first metro lines to be constructed in China in the 1960s.
The migration to a digital platform is part of the five-year plan to upgrade the subway systems and equipment to integrate all metro lines on a unified communications platform.
"Minimising risks, improving passenger services and raising the safety level and overall standard of our subway operations are some of the key priorities when we were considering a system refresh," said a spokesperson from the Beijing Metro.

TETRA : Second phase Russian railway project
The Russian railway is the first in the world to adopt TETRA after testing both TETRA and GSM-R technology. The Moscow – St. Petersburg line, which is 800 kilometres long, will bring the system into operation. Teltronic won the initial contract in May 2005, and works with Russian companies Globalsvyaz and Microtest. Specific interfaces have been developed, as well as a complex monitoring system under SORM specifications. The system is also integrated within the existing radiocommunication networks in the Russian railway.
The first project phase included the two central nodes and 19 base stations for 300km of track. The second phase includes another 500 kilometres, making a total of 800 kilometres. A total of 32 base stations are going to be placed in this second phase.

A meshed municipal HIPERLAN 2 vs WiMAX
A blanket municipal coverage is not the only opportunity for mesh WLAN networks as HIPERLAN 2 technology which uses 5 GHz bands.
This technology has also a promising future both in enterprise, campus environments, medical and in suitable industrial applications.

ZigBee in public safety
The ZigBee network layer is responsible for device discovery and network configuration. It supports star, mesh and cluster tree network topologies.
Mesh capability is a fundamental and differentiating attribute of ZigBee's design.
It means that high power is not required for large networks, as messages can be delivered by hopping from node to node.

The rapid deployment characteristics of mesh networks open up many potential uses in public safety.
Designed to be highly adaptive and scalable, ZigBee allows a new device or network node to be added, adjusting to the addition through a simple request to the master device.

Some possible applications of ZigBee technology for public safety and rescue organizations are :
- Ambulance and healthcare
- Fire brigade
- Police

A meshed municipal Wi-Fi vs WiMAX
The concern for supporters of meshed municipal Wi-Fi is WiMAX, the emerging long range wireless communications standard.
Likely to target fixed network service provision to homes, indoor, confined space and businesses initially, it could also become a killer application for users of mobile consumer technology, as UMTS / 3G, in urban areas, thanks to the inclusion of a mobile version of the standard IEEE 802.16e (WiMAX mobile).

One of the biggest advantages of WiMAX is its broader coverage. It has a range of kilometers, rather than meters, which would theoritically make deployment much easier and cheaper within an urban environnment, especially as WiMAX base stations could potentially be fitted to existing cell towers, lowering the cost of implementation.
Although discrete Wi-Fi hotspots are deployed in their thousands around the world, the implementation of meshed Wi-Fi technology is only slightly ahead of WiMAX, making the race a much closer one.

ZigBee : a new wireless standard
ZigBee is a new wireless standard supports a mesh networking architecture.
A group called the ZigBee Alliance created ZigBee to function on top of the Physical (PHY) and Medium Access Control (MAC) layers, adding application profile and network layers, plus AES-128 encryption security, which can be taillored to meet the needs of an application...

The name is based on the ZigBee principle : the Zigzag path of Bees that serves to signal a new food source to other members of the colony.
The telegram is dead - STOP
"Effective January 27, 2006, Western Union will discontinue all Telegram and Commercial Messaging services. We regret any inconvenience this may cause you, and we thank you for your loyal patronage (saying on its website)."
It is the end of an era. The compagny that was formed in 1855 to exploit the white-hot technology of the telegraph was the last firm in the US to offer telegram services. It may be that telegrams are still offered in a handful of countries around the world but the telegrams of Western Union are no more. From now on the compagny will concentrate solely on offering financial services, such as money transfers.

Nota :

Prior to the telegraph, for instance, the quickest way of sendind a message from New York to California was by the famed Pony Express (diligence), whose delivery service took 10 days. By using the telegraph a message could sent, received, transcribed and delivered in a matter of minutes.

The first commercial machine was made available in Britain in 1837 by Sir Charles Wheatstone and Sir William Fothergill-Cooke. At the same time, a similar device was patented in the US by Samuel Morse, who, with a $30.000 grant from Congress, developed the now famous Morse code signalling system using "dots and dashes" with his assistant Alfred Vail. After weeks of practice and rehearsal, the two men finally display their system in public on 24 May, 1844.

HUNGARY for TETRA
Hungary chooses Nationwide TETRA Network.

The number of mobile equipments is listed below :
- Stage 1 : 14 000 radio terminals
- Stage 2 : 28 000 radio terminals

The vendor partners selected are :
- System and technology vendor EADS Secure Networks
- IT system developer T-System

Nota :

EU Requirements : The 380 MHz frequency band is designated and dedicaded
to public safety by the NATO joint Civil / Military / Frequency Agreement.

The application of standardized radio communication technology, strongly advised for cooperation among the border guard / border police of EU member states, promotes interoperability at both technical and organizational levels.

European technology was preferred, considering Hungary became a full member of the EU.
EADS and Siemens submitted a tender to the GFMI
EADS and Siemens submitted a tender to the German Federal Ministry of the Interior for a Nationwide digital voice and data network for the country's security and government agencies.
EADS : TETRA Terminals (Belgium, Ireland, Holland)
Eads announced three contracts for TETRA terminals.
It will supply TETRA radios to Belgian fire brigades, the Irish Garda police, and the Amsterdam police

MOTOROLA : TETRA System (Korea)
Motorola's leading distributor in Korea won a bid to provide Korea's National Emergency Management Agency (NEMA) with a nationwide TETRA system
TELTRONIC : TETRA Networks (Venezuela)
Teltronic supplied TETRA networks for the Trujillo police in Venezuela
TELTRONIC : TETRA Infrastructure (Russia)
Teltronic was awarded a contract to supply TETRA infrastructure for the Moscow-St. Petersburg Railway
TELTRONIC : TETRA equipment (Brazil)
Teltronic will supply TETRA equipment and several dispatch centers for the network of the Brazilian state of Bahia

SELEX Communications : TETRA Networks (Spain)
SELEX Communications won a $12.2 million contract with Soluziona for the first phase of a TETRA network for the emergency services of the Castilla La Mancha region in Spain
SEPURA : TETRA radios (Serbia)
Sepura will supply TETRA radios to the Ministry of Interior of the Republic of Serbia and Montenegro for the Serbian border police.
SEPURA : TETRA radios (Brazil)
The Brazilian state of Bahia has purchased more than 2 000 handheld TETRA radios and network equipment from Sepura
TETRA : 788 Contracts
788 TETRA Contracts in the regions of the world (in 77 countries)


TIME : Persons of the year
TIME's persons of the year : Bono and Bill and Melinda Gates
EADS : Delivery of TETRA handportable
EADS Secure Networks began delivery of THR880i TETRA handportable radio terminals for South KOREAN operator T. On Telecom's TETRA network.

Click

Don't miss the world's largest and best TETRA meeting and exhibitions :

28 th November - 1st December 2005
Forum Messe Frankfurt
Germany

---